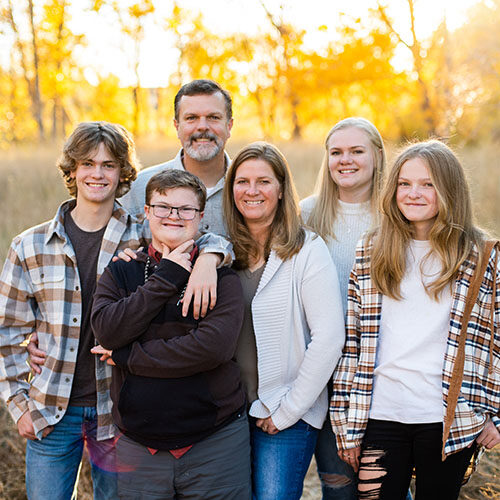 Lori, a native to Colorado, lives in Windsor with her husband, Charlie, and their four kids: Taylor, Brandon, Caleb, and Emily. She spent 13 years in Iowa before moving back to Colorado in 2011. She has a Master's in Degree in Higher Education and spent several years working as a college administrator and soccer coach before choosing to stay home full time to focus on raising the kids. She spends her free time volunteering, advocating for Caleb, and attending her kid's various softball, hockey, basketball, and 4-H events.
SPENCER ANDERSON | TREASURER
Spencer and his wife Erin have lived in Fort Collins since 2005. They came so Spencer could attend graduate school at CSU and loved it so much they could never leave. They have four children: Milo, Isabel, Keeler, and Tatum. Spencer works as a child and family therapist and probably spends too much time rock climbing.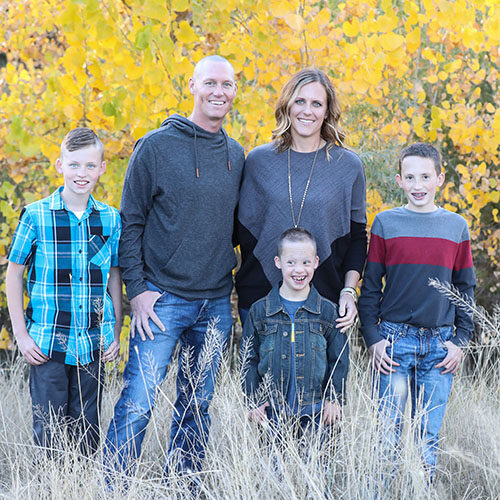 DEANA LANDRIGAN | SECRETARY
 
Deana lives in Windsor with her husband, Jay, and three boys: Levi, Ian, and Cam, who has the extra special chromosome! During the day when she is not working her first job as "Mom", she is a a pharmacist. With an all-boy house, the Landrigans enjoy watching and playing all sports, camping, and cycling. Deana upholds her Canadian roots playing on a women's hockey team. The Landrigan family enjoys traveling to see family in and out of the country as well as spending time with friends.
Angela Smith | Co-Walk Coordinator
Angela is originally from Kansas, but she and her husband moved to Loveland about ten years ago. Angela is an OT (Occupational Therapist) and has worked at Medical Center of the Rockies for the past eight years. Angela and her husband have been blessed with two kiddos, Charlie and Eli.
In her free time, Angela enjoys running, hiking, rock climbing, skiing, fishing, camping, and spending time with her family and friends!
Brittany Schiager | Co-Walk Coordinator
My husband Joel and I were both born and raised in Fort Collins. Our two "tiny humans" Jason and Bryn are the perfect addition to our family. As a family we enjoy spending time with our friends and family, getting outside to go for walks and to play at playgrounds, participating in NCDSA events and activities. Outside of being a mom, I works as a pediatric physical therapist. I work in outpatient pediatrics as well as the NICU. 
Mollie Murphy | Co-Community Event Coordinator
Mollie is native to Colorado. She moved to Fort Collins to go to CSU almost 20 years ago and decided this was home for her and her two kids, Wyatt and Ayla. When Mollie is not working as a Real Estate Agent, she is with her family and friends. They love to hike, boat, fish, ski, practice yoga, and dance. Her two beautiful kids keep things exciting with their humor and love for life.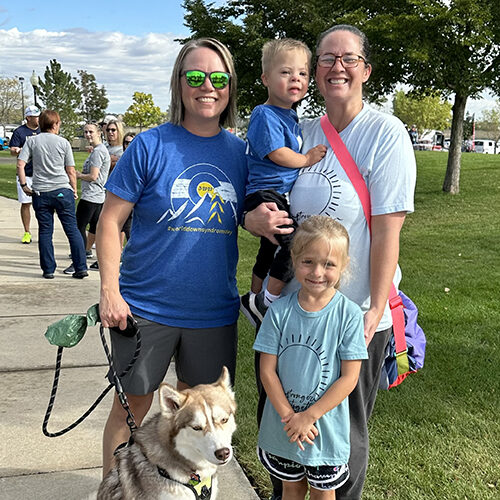 Aimee Anderson | Co-Community Event Coordinator
Aimee lives in Windsor with her wife, Colleen, and their two kids, Maya and Tate. Aimee is a significant needs teacher at a high school in Greeley and is working on her second masters degree in Adapted PE. The Anderson family enjoys fostering dogs for a local rescue and spending time together as a family. We are so thankful to be part of an amazing organization and look forward to supporting our families!
Melinda Hodge | Fundraising Coordinator
Melinda lives in Windsor with her husband, Kelly, and daughter, Jadyn. She also has two adult daughters, Katelyn and Makayla, that live nearby. Melinda is originally from California, but has lived in Colorado since 1996. She worked as a physical therapist for over 25 years, including early intervention. Melinda saw the need for a network and social activities for our Down syndrome community teens and started the teen and adult group "We Belong." Melinda enjoys traveling and spending time with friends and family.
Viri Torres | Community Liaison
Hello! My name is Viri Torres. I enjoy spending time with family and friends. I'm from the beautiful city of Chihuahua, Mexico, but I was raised in Colorado. I love being around people and making friends. I speak Spanish and will be your contact person for NCDSA if you have questions or need help. My sister, Emma Torres, is part of the lucky few and I'm beyond blessed to be her sister.